What is Purelist?
Email Answers - Purelist provides a secure email list cleaning service that will scrub and clean your existing email address database. This email list hygiene service keeps your email databases up to date by identifying and purging bad, dead, seed, spam trap, honeypot, duplicate, BOT and known undeliverable email addresses. We accomplish this by comparing your email data to the 100+ million email records we maintain in a variety of categories.
If you need to verify that every email address in your list is valid and deliverable, please review our email list cleaning and validation service. To see the differences between Purelist and our Email List Cleaning and Validation Service, please review our comparison chart.
How does it work?
1

Click the "Get Started Now" button below

2

Sign up for an account

3

Confirm your email address

4

Create password & provide your billing address

5

Add a minimum of $10 to your account

6

You're ready to start using Purelist
How Long Will it Take?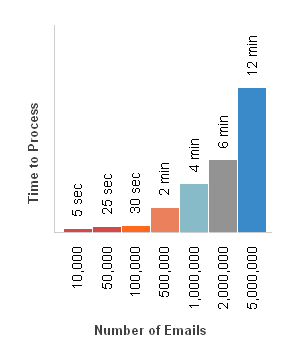 < 12 Minutes
< 10 Minutes
< 8 Minutes
< 6 Minutes
< 4 Minutes
< 2 Minutes
What are the benefits?
The major benefits of Purelist, our real-time email list cleaning service, include maximizing deliverability by removing dead email addresses and domains, spam traps, disposable emails and other undesirable email addresses from your list. This service helps prevent you from being black listed or labeled a "spammer" and reduces the overall marketing costs associated with your email marketing efforts, due to poor email list quality. This service will also help improve and safeguard your IP Reputation and allow you to deliver more of your email marketing campaigns and messages to the users inbox.